Automation
The ability to flexibly respond to changes in today`s fast-paced pharmaceutical environment can make the difference between success and failure. Automating your dissolution process increases lab efficiency, improves data quality, and eliminates redundant, error prone tasks in your laboratory.
Xtend™ – One system for your needs
Xtend™ Highlights
Manual Dissolution
Manual
Dissolution
While automation ready, the AT Xtend™ is a robust and easy-to-use manual dissolution tester with 6-8 vessels. User-friendly EasyTouch™ operation, advanced user administration, and method version control make it at an ideal choice for compliant dissolution testing.

Products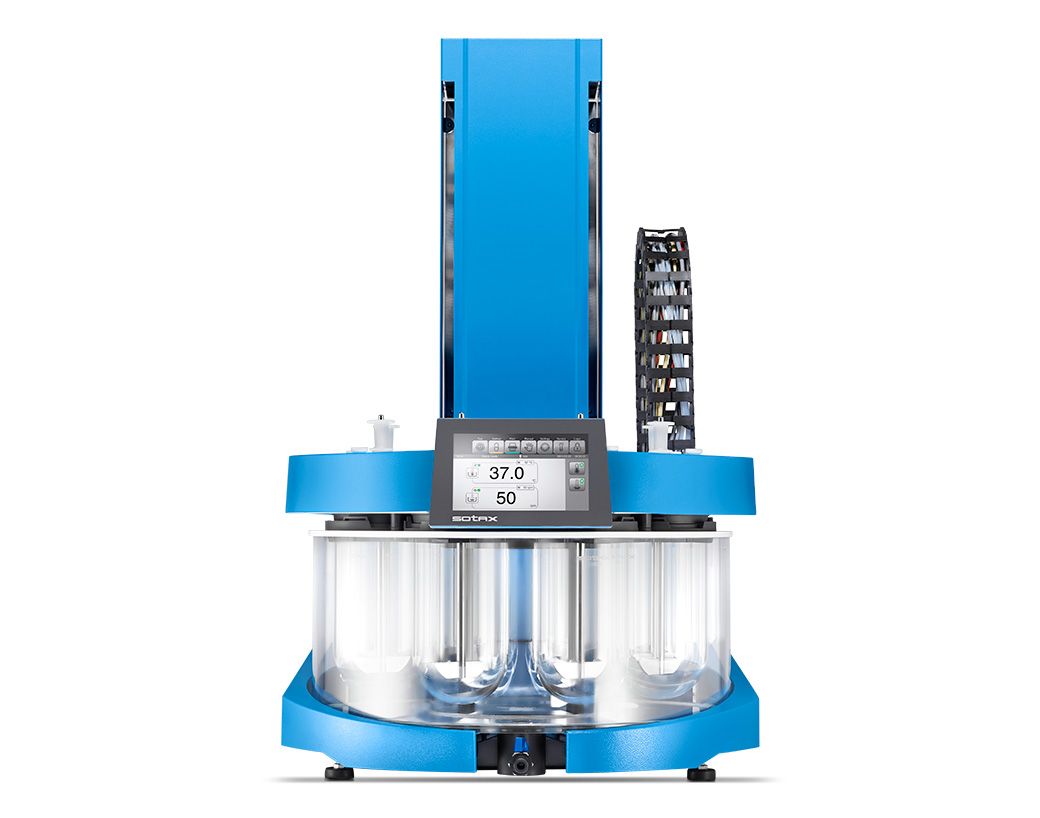 Semi Automated Dissolution
Semi-Automated
Dissolution
The ATS Xtend™ is a versatile semi-automated platform allowing for withdrawal, filtration, collection, and UV-Vis measurement of your samples. Test after test, method conditions are faithfully repeated in order to ensure that dissolution results are reliable, and the corresponding parameters are automatically reported.
100% Automated Dissolution
100% Automated
Dissolution
Let your system do the work. The Xtend™ performs a series of 100% unattended dissolution tests without any operator action required. Execute and record all steps from media preparation to vessel filling including gravimetric verification of vessel volumes, sampling & filtration, to automatic self-cleaning in between runs.
---
Automation
Repeatable operation of simple laborious steps is at the heart of automating your dissolution process. Xtend™ allows flexible automation of all steps from preparing dissolution media to system cleaning. Thanks to its modular design, all Xtend™ components that are in contact with your product are always 100% identical irrespective of your system`s automation level.
Watch the Video
---
Integrate Analytical Finish
Offline
Offline
Remain 100 % flexible without dedicating your system to any analytical method. Offline systems automatically collect samples in standardized tubes, vials, or wellplates for manual transfer by the operator to an analytical device. For methods with multiple timepoints, the system can automatically replace withdrawn sample volumes if needed.

UV Online
UV Online
Gather analytical data in real-time and eliminate waiting times by integrating a UV-Vis spectrophotometer into your sampling process. Withdrawn volumes are immediately returned to the vessels – no medium replacement required. Results including protocolled test conditions are readily available in one consolidated report at the end of each test run.

UV On-/Offline
UV On-/Offline
Get the best of both worlds and combine the advantages of UV Online with the flexibility of an Offline system. Perform UV-Vis measuring in real-time and collect samples for more complex analytical methods offline. Add cooling of collected samples if needed and let the system perform medium replacement or pH change automatically.

LC On-/Offline
LC On-/Offline
Collect samples offline – and automatically inject them into an HPLC / UPLC without any manual transfer. The SAM sample manager buffers collected sampling volumes from all vessels and sequentially injects them into your chromatography system. Reduce the time from sampling to analysis to an absolute minimum – particularly for your most critical products.

---
Fully Automated Platforms
ATF Xtend™
ATF Xtend™
The ATF Xtend™ is a floor standing fully automated dissolution system which consists of integrated modules that can be combined based on testing requirements.
AT MD
AT MD
The AT MD fully automated dissolution system consists of benchtop modules that can be combined based on your testing requirements.
---