The HT100 has been specifically designed for fast and efficient handling of different tablet shapes in R&D and QC departments. Very short cycle times combined with patented AutoAlign™ technology make the HT100 the preferred choice for laboratories requiring high throughput rates and maximum flexibility. Operated with q-doc® data management software, efficient data management in full compliance with data integrity guidelines and 21 CFR, Part 11 regulations has never been easier.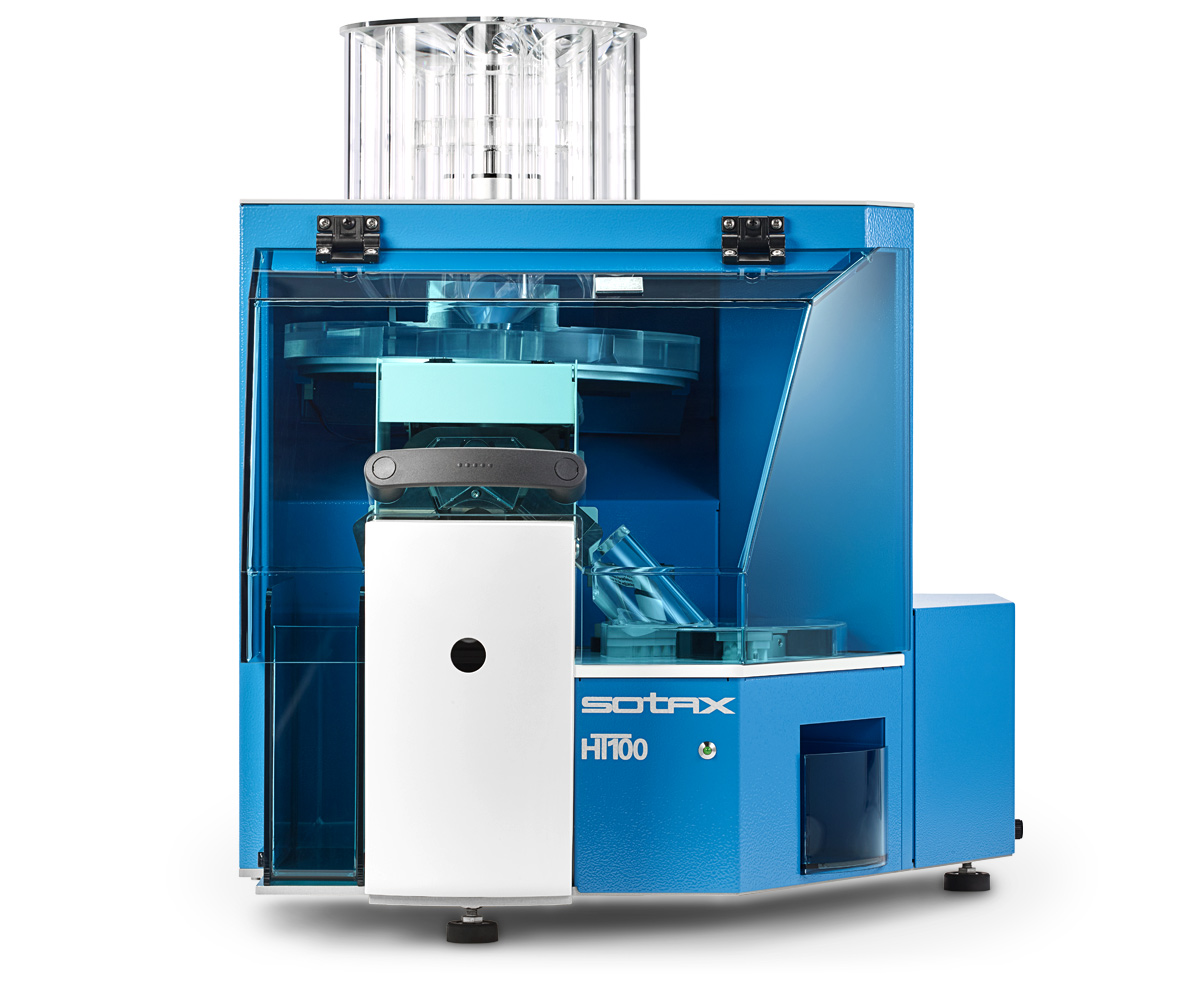 10-magazine feeder to handle samples from different batches simultaneously
AutoSeparator™ for fast and reliable feeding of single samples
AutoAlign™ for fast and reliable orientation of oblong and oval tablets
Transport carousel and measuring stations for thickness, width, diameter / length, and hardness
Operated with q-doc® for data integrity and 21 CFR, Part 11 compliant data management
Weight measuring station with fast "weight only" mode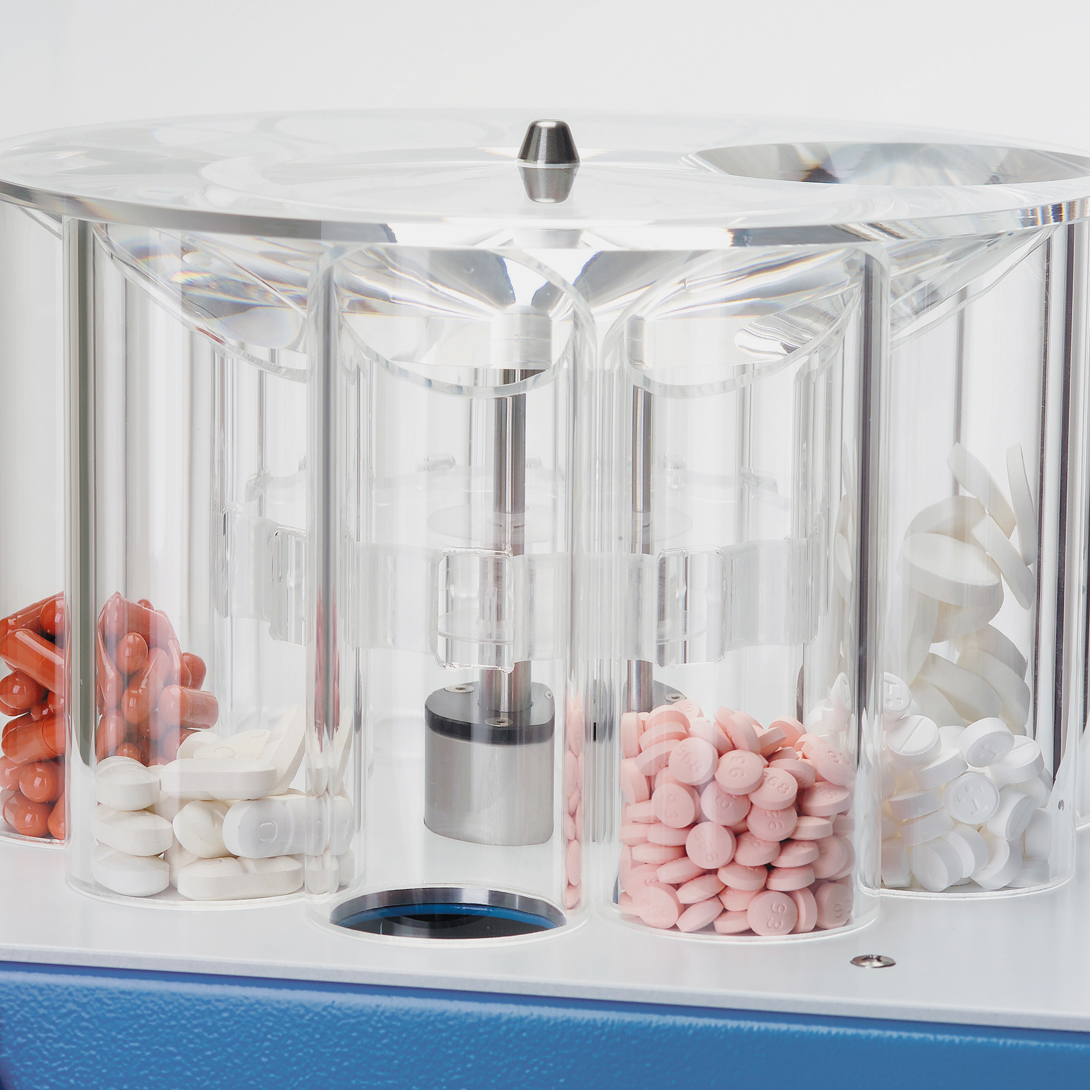 10 different batches.
The HT100 is designed to minimize the workload of operators. Samples from up to 10 different batches can be loaded simultaneously for automatic testing. To accommodate different workflows, operators can also add samples to non-occupied magazines anytime to avoid unnecessary waiting times. For large quantities, the HT100 allows using two or more magazines for the same test run.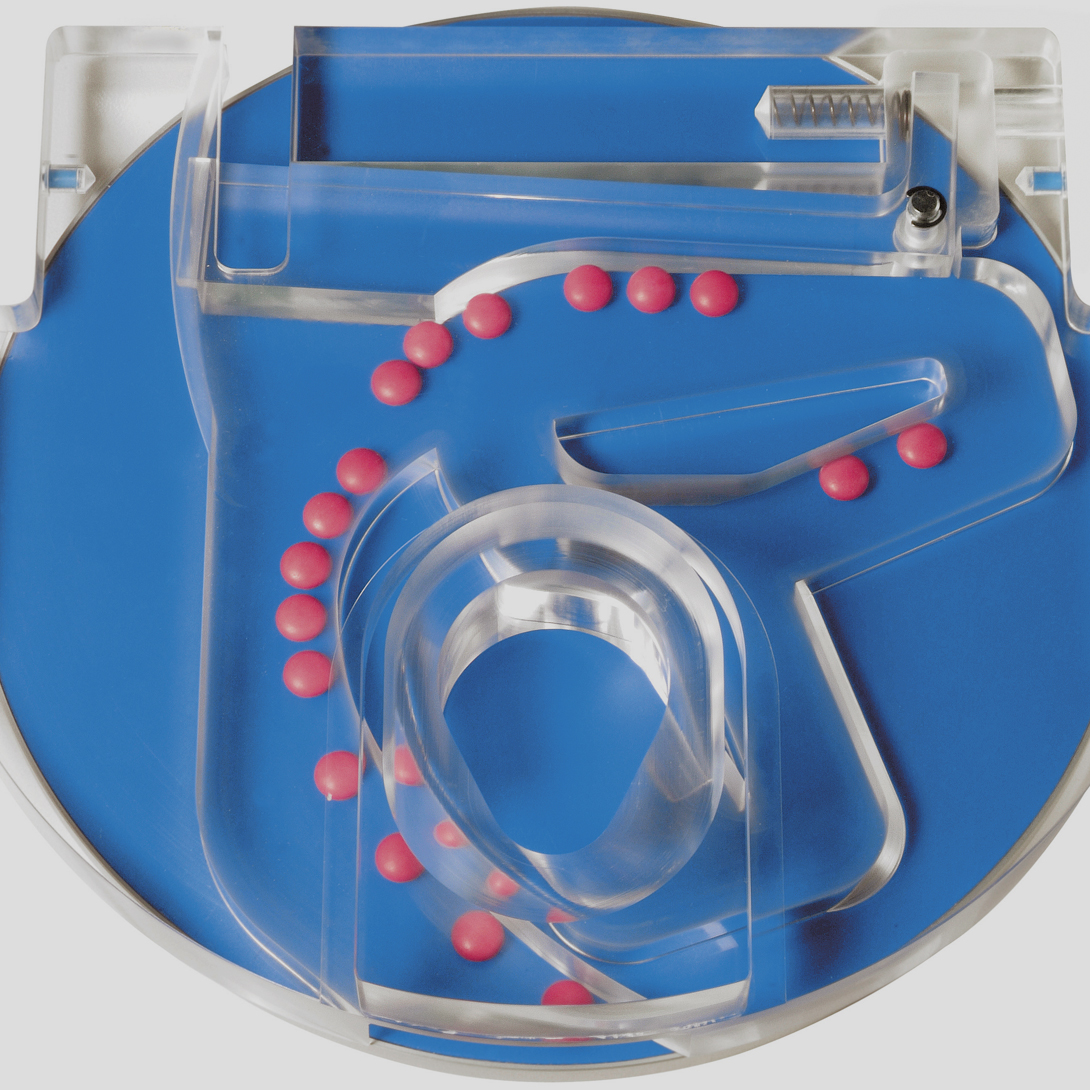 AutoSeparator™
A universal AutoSeparator™ system reliably feeds single tablets to the measuring stations – irrespective of their shape and size. The simple yet effective design with a rotating disc perfectly handles small to large sample sizes. For easy cleaning, the entire guide channel can be removed within seconds without requiring any tools.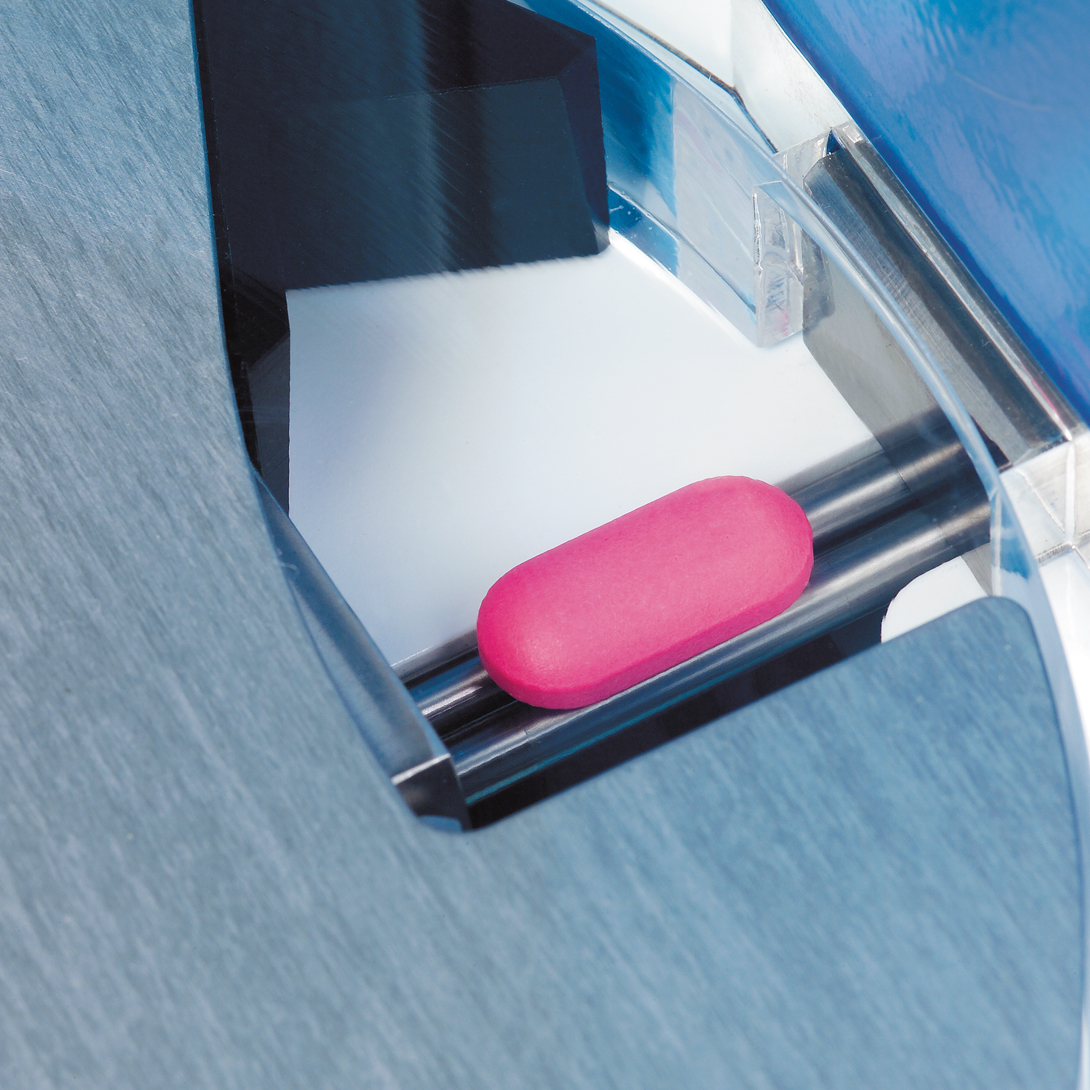 Patented AutoAlign™ technology.
Reliable tablet orientation is a prerequisite for repeatable and accurate measurements. The patented AutoAlign™ technology with counter-rotating rollers flexibly handles oblong and oval shapes as a standard. Tablet debris is effectively removed from all surfaces as the rollers retract and the transport wheel cleans the jaws.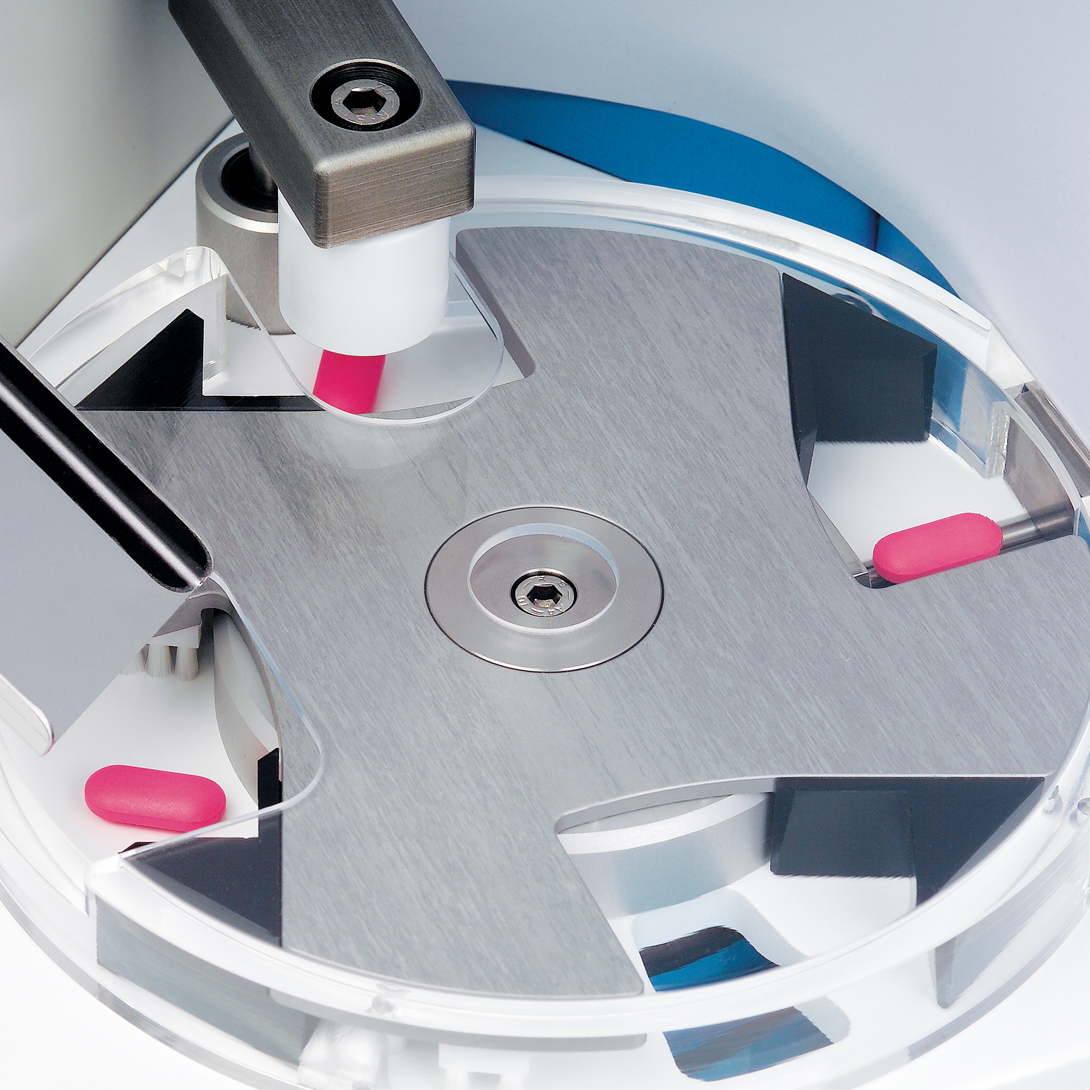 Short cycle times.
From feeding to cleaning – the HT100 is designed for fast operation and highly efficient automated testing processes. Excess samples typically required for loading the various buffer positions of conventional testing systems are not needed. Samples are directly transferred to the integrated measuring stations – proving for short cycle times and a minimum number of required samples.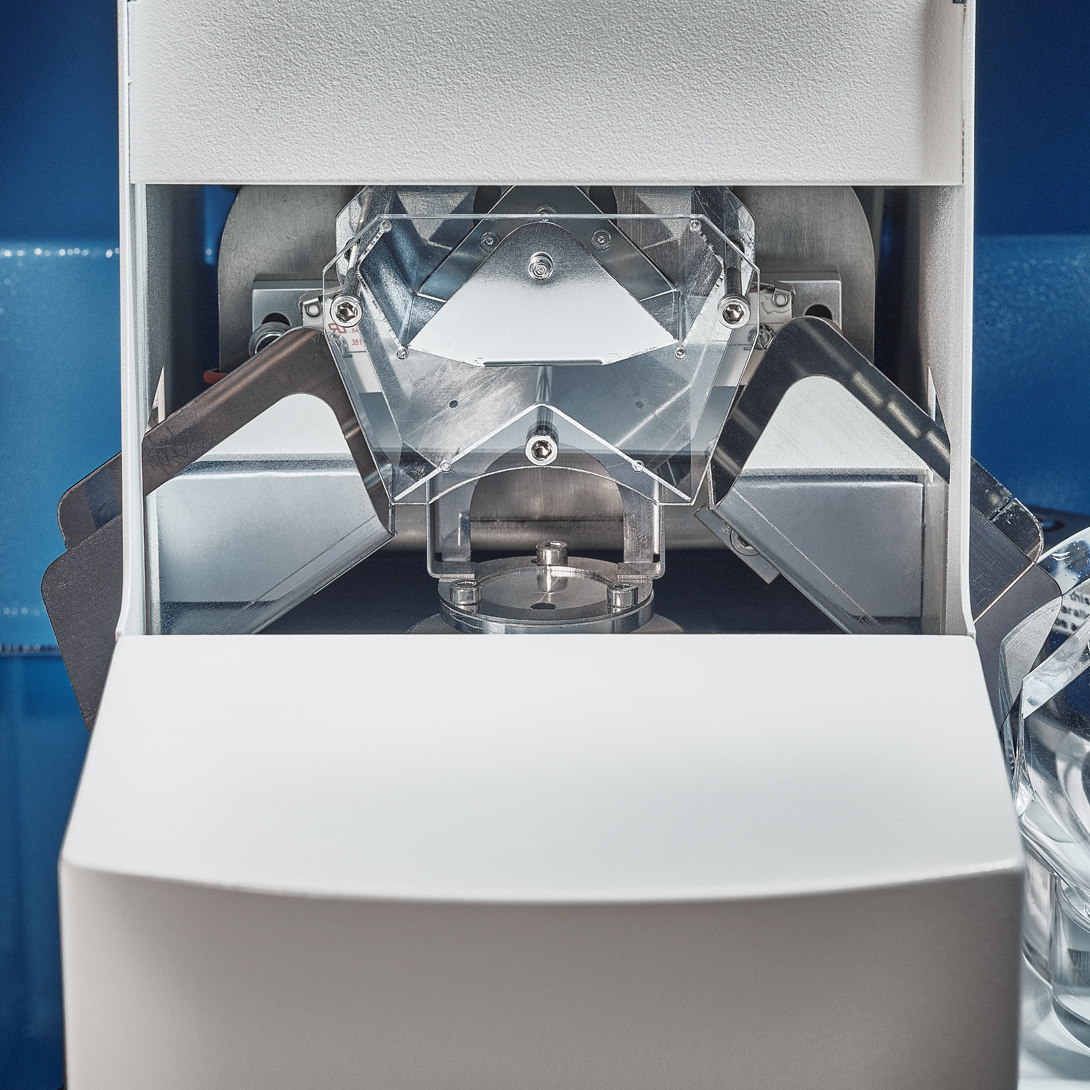 Efficient weighing.
In addition to being a multi-parameter testing instrument, the HT100 can also be utilized as an automated weighing system. In weight-only mode, samples are immediately collected in a separate bin after weight measuring. Large quantities can be tested within a short period of time as samples are no longer transferred to the other measuring stations.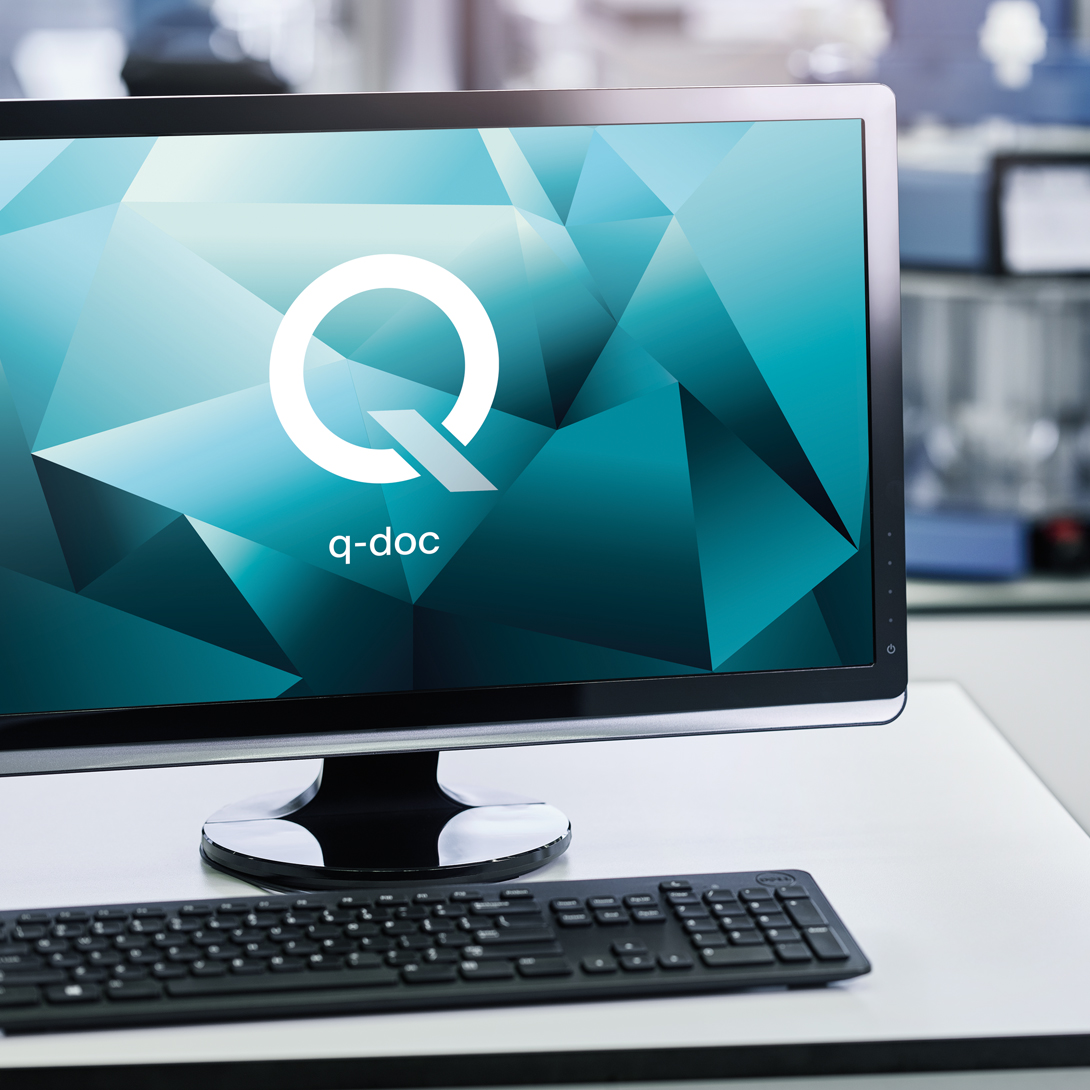 Regulatory compliance.
Operated with q-doc® data management software, the HT100 offers advanced reporting and evaluation capabilities. From user management with LDAP integration to data trending, batch comparison and import / export functionalities – efficiently managing your data in full compliance with data integrity guidelines and 21 CFR part 11 regulations has never been easier.